Another Florida "Red Flag" victim is fuming mad after cops arrived at his place of employment and demanded he immediately surrender his firearms. When 44-year-old Anthony Jackson said his firearms were at home, in a locked gun cabinet, authorities handed him a warrant that authorized them to seize any and all weapons on his person and premises. He had to leave work early, which enraged his employer, and head home, handcuffed, in the backseat of a police cruiser.
He claims that officers from the Seminole County Sheriff's Office used bolt cutters to open his gun cabinet, despite him offering the key, and ransacked his home on a fishing expedition, hoping to find more weapons or even narcotics.
"They were angry they couldn't find anything else," said Mr. Jackson. "All I had was two rifles. I got them years ago. They stole my guns. I didn't do anything wrong. They kept screaming at me. Where are the rest of your guns? Where are the drugs?"
Like many "Red Flag" victims, Mr. Jackson has no criminal history. He has never even had a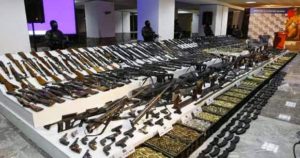 parking ticket. He believes law enforcement targeted him because he had attended a gun show in August, at which he expressed interest in purchasing an AR-15 from who he believed was a licensed firearms dealer. He did not buy the weapons, but did complete paperwork that held his name, address, and other personal information.
"I think the dealer was fake. A plant. We had a short conversation. I told him I like hunting and hate government officials trying to take our guns. He laughed and agreed with me. I think he sold me out. I don't know any other reason I'd be singled out," Mr. Jackson said.
But Mr. Jackson's case is not an isolated incident. Since the law's adoption, Florida courts have approved around 2,500 risk protection orders, according to an August count by NPR, the majority of which are issued based on whimsical evidence and spurious allegations. Red Flag legislation says a judge may issue a risk protection order if he believes a suspect poses a threat to himself or the community; but the laws are vague on what constitutes a threat or significant danger. The nebulous wording gives courts broad discretion to seize lawfully owned firearms.
Currently, seventeen states and D.C. have adopted "Red Flag" laws that allow law enforcement, doctors, family, friends, and strangers to petition courts to confiscate weapons from persons who have not committed crimes. In many cases, the subject of a "Red Flag" seizure cannot defend himself until a final hearing, which can be scheduled months away, at the judge's discretion.
In Mr. Jackson's case, he has yet to receive a hearing notice; he believes any hearing is merely a formality, not a venue that vindicates the innocent.
"I doubt I'll see my guns again. And the order says I can't buy any more. I guess I'm blacklisted. And the cops who tore up my house are probably out giving these warrants to other people, stealing their guns. This is absurd," Mr. Jackson said.
(Visited 43 times, 3 visits today)