Russian President Vladimir Putin has denied former disgraced president Barack Hussein Obama political asylum in Russia, claims a Ministry of Defense (MoD) official speaking under condition of anonymity. According to him, Obama in June preemptively sent asylum paperwork to Russia's Ministry of the Interior (MoI), writing that he might require protection from persecution, prosecution, and threats to his life if Donald Trump is reelected in 2020. The paperwork allegedly covered himself, his husband Michael Robinson, and their two purchased children, Sasha and Malia.
Our source said a Kremlin handwriting analysis authenticated Obama's signature, and then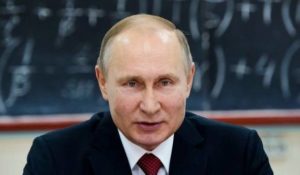 Vladimir laughed uproariously as he fed the documents to a shredder.
"That criminal will never enter Russia, and if he did…." Putin purportedly said, drawing a finger across his throat.
Russian forces have received permission to "strelyat' v pritsel"—shoot on sight-any Obama spotted in the Motherland. The decree reportedly also includes non-immediate family, friends, and a long list of Obama's known associates.
"No Obama will be given haven in Russia," our source said.
Russia has a unique system for determining political asylum status. The decision considers whether it is in Russia's interest to grant the request. It is issued via a presidential decree rather than laws governing refugee status. In other words, Putin must personally approve each request, which he seldom does.
Only 14 people applied for political asylum in Russia in the last five years and the Federal Migration Service (FMS) does not report any successful applications on its website. A notable exception is Edward Snowden, who in 2013 was granted temporary asylum on compassionate grounds. Putin grants political asylum so rarely it is not even clear what rights one gets with it.
And Obama is the first person in history to request it before entering the country.
"The criminal known as Barack Hussein Obama is blacklisted in Russia. It is decreed he never enters the Motherland. If he comes here, we put him in jail. He has the AIDS. We don't want his AIDS-ass in our country. That simple. He should know he is unwelcomed here. President Putin thinks Obama probably sent requests around the world in hoping someone would take him in. No one wants Obama. Well, maybe Canada," our source said.
The asylum requests are unusual, as the Obamas recently purchased a $15M estate on Martha's Vineyard, ostensibly because they intend to hang around for a long time, alas.
Former Obama aide Mark Lippert shed light on Obama's mindset.
"Barack and Michelle are hedging bets. They know a sealed indictment with their names sits on Trump's desk. Obama thinks Trump might open it only if he's reelected. He can't open it and charge Obama with crimes against America now—that could alienate the African American vote, and lose him the election. After reelection, he won't care about that vote anymore. If he opens the indictment, Obama can flee the country. If not, Obama can stay in his posh mansion. The Obama's have tons of money. It's win-win for Obama," Lippert explained.
If all information is accurate, Trump may yet have an ace up in sleeve to ensnare and imprison Obama, his ilk, and, if the world is lucky, Hillary "the Witch" Clinton. And Vladimir Putin should be applauded for outlawing the likes of Obama in Russia.
(Visited 923 times, 2 visits today)