Turkish President Erdogan has made an astonishing request of Vladimir Putin, asking for Russian military aid to rid his nation of a growing Anunnaki pestilence along the Turkish-Syrian border, according to Federal Service Bureau (FSB) operative Dimitri Osmosovich.
The situation has become so dire, Osmosovich said, that Erdogan promised to sever ties to the United States and other western nations in exchange for Special Services soldiers, specialists from Russia's Metzgoya extraterrestrial research outpost, and access to acoustic and energy weapons known to be effective against Anunnaki physiology.
Erdogan made the plea after an Anunnaki horde butchered a Turkish army platoon that was tracking a band of ISIS freedom fighters near the border city of Mardin. It was the sixth attack on Turkish forces in three months. In each case, the Anunnaki invaders appeared from nowhere to slaughter and devour Turkish soldiers.
"After losing 60 men to these monsters, Erdogan had had enough. Rather than approach the west for help, he hoped his recent purchase of S-400 missiles from Russia would make Putin receptive to offering help. He even said he would disavow NATO and the U.S. if Russia wiped out all Anunnaki enclaves near the border," Osmosovich said.
He added that Erdogan had somehow obtained knowledge of Putin's victories—and losses—against the iniquitous creatures, in both Syria and Russia. Erdogan asked Putin to "cleanse Turkey of Anunnaki," and swore undying fealty to Putin and Russian supremacy. But Putin, Osmosovich said, was well-aware of Turkey's Anunnaki troubles; since starting his clandestine war on the diabolical extraterrestrials in 2013, Putin has monitored Anunnaki incursions worldwide. An intelligence network consisting of surveillance satellites, spies, and boots on the ground provides him with near real time data.
"President Putin has committed himself to destroying Anunnaki wherever and whenever they rear their heads, because he hates them and knows the threat they pose to humanity. But he played Erdogan like a fiddle by waiting for a formal request for help. Despite the S-400 sale, Putin still dislikes Erdogan because of his ties to NATO and the U.N. Putin never would have asked him to sever ties with the west in return for help, but since Erdogan made the offer, Putin wasn't going to, how do you Americans say, look a gift horse in the foot," Osmosovich said.
Whether Putin holds Erdogan to his pledge is currently open to speculation, but he agreed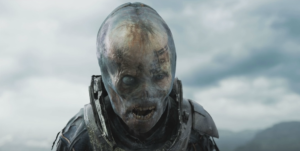 to commit Russian forces to the battle, as the Anunnaki irruption endangers not only Russia but also the entire planet. The Anunnaki appear and disappear at will, using a nexus of trans-dimensional portals only they can see. Anunnaki pockets have recently been discovered near the Turkish cities of Antakaya, Harran, and Mardin, as well as in neighboring countries of Georgia and Azerbaijan.
"The Anunnaki is like the mythical Hydra. Slice of a head and two grow back. Kill an Anunnaki and two come back. There may be no stopping them, but President Putin is willing to sacrifice his life and his career to send these beasts back to where they came from," Osmosovich said.
(Visited 1,111 times, 1 visits today)